Roasted Parsnip Pumpkin Soup (AIP)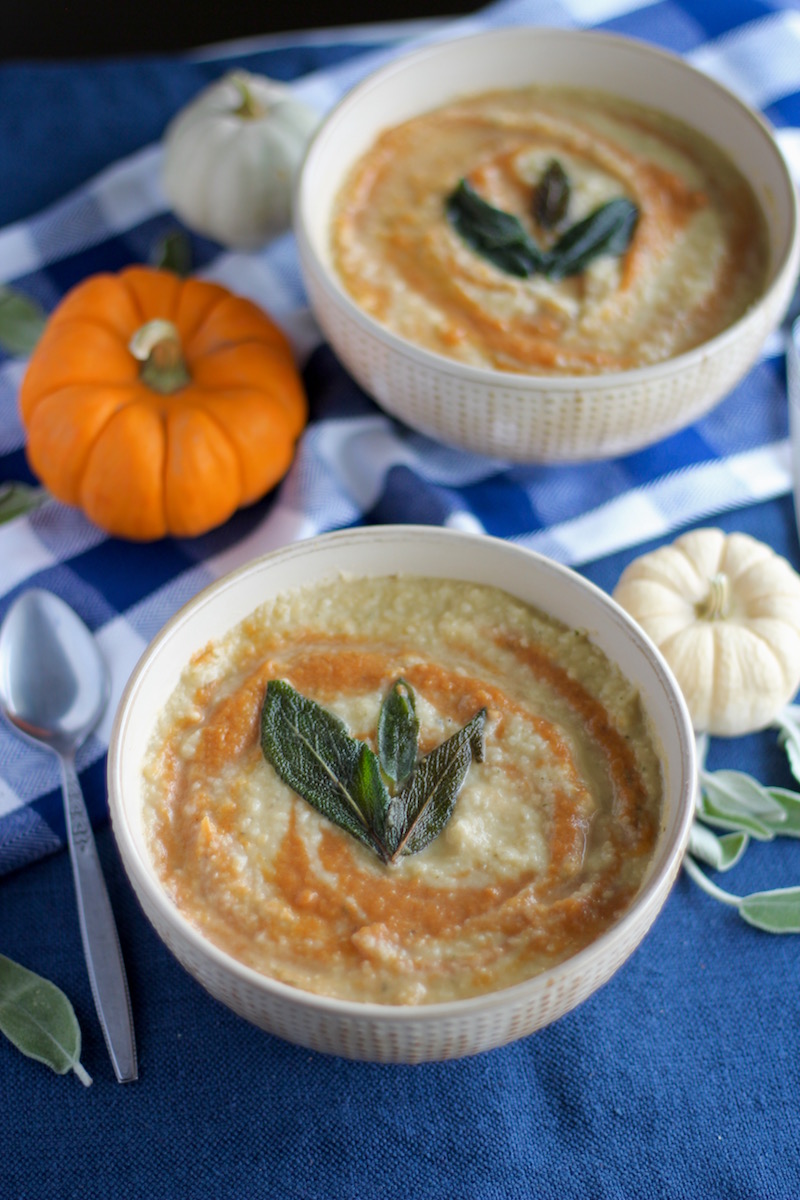 2 lbs parsnips (about 6 medium/large size)
3 tablespoons coconut oil, divided
½ teaspoon garlic powder
½ teaspoon dried thyme
1 onion, chopped
2 teaspoons minced garlic
1 tablespoon chopped sage
1 can coconut milk
4-5 cups bone broth (depending on how thick you want your soup)
sea salt to taste
1 can pumpkin
½ cup bone broth
½ can coconut milk
2 teaspoons maple syrup
1 teaspoon chopped sage
1 teaspoon cinnamon
½ teaspoon thyme
pinch of sea salt
10-12 sage leaves
1 tablespoon coconut oil
Preheat your oven to 425 degrees.
Peel and chop your parsnips and place on a parchment-lined baking sheet. Toss with 2 tablespoons melted coconut oil, garlic and thyme. Roast for 35 minutes, stirring once halfway through.
In a large stockpot, saute onion and garlic in 1 tablespoon coconut oil on medium/high heat until translucent. Add garlic and chopped sage and saute for an additional minute. Add in coconut milk and bone broth. Bring to a simmer, then add in roasted parsnips and sea salt. Allow to simmer for an additional 2-3 minutes, then remove from heat. Using an immersion blender, blend soup until smooth and creamy, adding more broth if necessary.
In a separate smaller pot, heat canned pumpkin and the rest of the pumpkin soup ingredients. Stir occasionally until simmering, then remove from heat.
For the fried sage, heat coconut oil in a small skillet and add sage leaves. Cook for 1-2 minutes per side, or until darkened in color and crisp. Remove to a paper towel-lined plate.
To serve, ladle parsnip soup into bowls, then add pumpkin soup and swirl together with a spoon. Top each bowl with fried sage leaves.
~Add extra broth to thin the soup down while blending, if needed.
~To adapt this recipe for a GAPS Diet, substitute cauliflower or carrots for parsnips, boil them instead of roasting, and replace the coconut milk with bone broth. Remove maple syrup and cinnamon from the pumpkin soup and omit the fried sage.
Recipe by
Fed and Fulfilled
at https://fedandfulfilled.com/roasted-parsnip-pumpkin-soup/